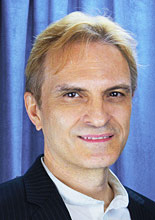 Ray Cologon, PhD.
Director of Development



Introducing NightWing Enterprises Pty Ltd
NightWing Enterprises Pty Ltd is an internationally recognised and award winning provider of FileMaker consulting, development, training and support services. The company offers an expert team of specialists under the leadership of Ray Cologon, PhD., operating from headquarters in Melbourne Australia.



Cologon is himself multi-skilled with a background in the arts, and experience in sectors such as education, administration, software engineering and consulting. Ray is also a FileMaker Excellence Award winner and a leading author of books and training materials for FileMaker developers and users. The company prides itself on a no-fuss approach, hands-on professionalism and technical excellence.



NightWing Enterprises has an extensive track record providing training, consulting, custom FileMaker solutions, design and developer support services to clients in Australia, the United States, Europe and Asia. Many of our clients are themselves FileMaker Pro developers, who seek support for advanced requirements and complex projects. We could add a great deal to your project - art, imagination and expertise - contact us to discuss your requirements!