NightWing Enterprises — Demo for FileMaker Pro™ 9



Control of nested Tab Panel configurations!


Tab-Meister


For FileMaker 9!



As a courtesy to fellow developers and potential clients, the
following demonstration file is provided for free download.



FileMaker's Tab Control object is a powerful organising tool, enabling you to create complex hierarchies of content within your layouts. However if you have multiple tab controls on a layout, you are probably wishing your scripts could capture the state of the layout (ie which tab panels are in front) and reinstate it later, so that after your scripts have run, they restore the configuration of the tab controls.

Most techniques designed to save and restore tab configurations are either complex to implement and/or support a finite number of tab panels or levels of nesting. The technique shown here is different. It's easy to implement and it will save and restore extremely complex configurations of tab panels.

This demo uses a single recursive custom function, FrontTabNames( ) to examine all the named objects on the current layout in turn, storing a list of the names of objects that are tab panels and are in front. The resulting list of tab panel names is stored in a variable and a simple script procedure is used to reinstate the saved configuration.

This demo file is unlocked and password-free, compliments of NightWing Enterprises.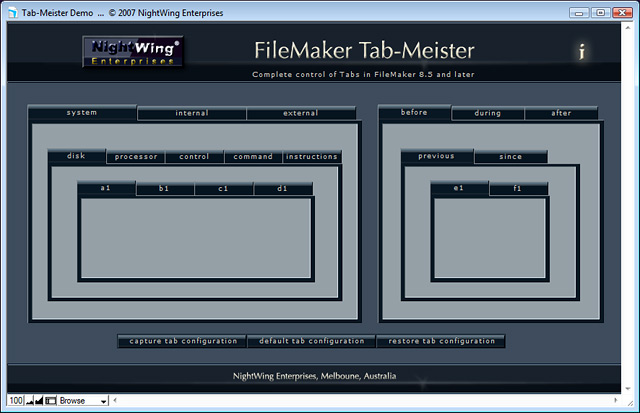 NB: If you may require assistance implementing procedures such as those shown in our
example files, please consider establishing an account with us for developer support.




NightWing Enterprises

ABN 22 207 533 285
www.nightwing.com.au/FileMaker
PO Box 20, Dallas, Victoria, Australia 3047
Ph +61 3 9016 3347 • Fax +61 3 9309 8273 • Mobile 0409 309 143
Email:
admin@nightwingenterprises.com

NightWing Enterprises - FileMaker Solutions:
- NightWing Enterprises, and the internet code-named
CobaltSky
is an internationally recognized
Filemaker consultant
,
Filemaker developer
and provider of
Filemaker pro custom
databases,
Filemaker pro custom development
,
Filemaker pro custom programmer
services and
Filemaker pro custom programming
.
Site created and managed using
FileMaker
™ Pro.

NightWing Enterprises is a division of d a r k s k y m e d i a