NightWing Enterprises — Demo for FileMaker Pro™ 9



Batch mode replication of found records!


Duplicate Found Set


For FileMaker 9!



As a courtesy to fellow developers and potential clients, the
following demonstration file is provided for free download.



Managing sets of data is what databases are all about and FileMaker is easier than most at presenting subsets of your data according to many and varied criteria. However when it comes to the duplication of record sets, complex relationship set-ups or export/import sequences are not necessary.

This demonstration file shows a self-contained and straightforward script technique for generating duplicate records from the found set, with the option to leave the focus on the pre-existing found set, or isolate the duplicate records in a new found set (controlled by the script parameter). The method is clean (no temp files are created) and flexible, giving you control over the process. Moreover with consistent naming (ie of the Serial# field and associated layout object) the script can be re-used across multiple tables and layouts.

A variant of the technique, using Go To Related Record [match found set] and repeating the process, can be used to duplicate related sets of records (eg invoices and their associated item lines) in a single procedure.

This demo file is unlocked and password-free, compliments of NightWing Enterprises.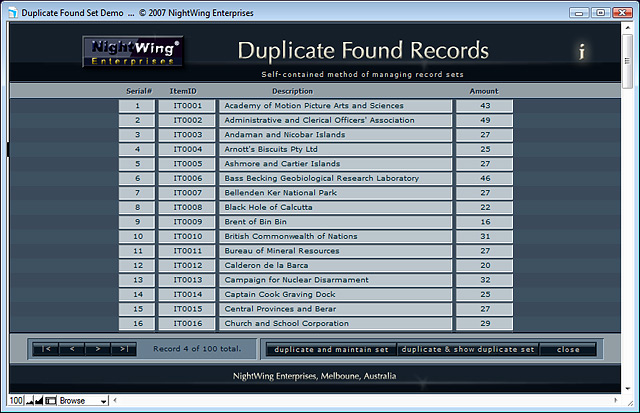 NB: If you may require assistance implementing procedures such as those shown in our
example files, please consider establishing an account with us for developer support.




NightWing Enterprises

ABN 22 207 533 285
www.nightwing.com.au/FileMaker
PO Box 20, Dallas, Victoria, Australia 3047
Ph +61 3 9016 3347 • Fax +61 3 9309 8273 • Mobile 0409 309 143
Email:
admin@nightwingenterprises.com

NightWing Enterprises - FileMaker Solutions:
- NightWing Enterprises, and the internet code-named
CobaltSky
is an internationally recognized
Filemaker consultant
,
Filemaker developer
and provider of
Filemaker pro custom
databases,
Filemaker pro custom development
,
Filemaker pro custom programmer
services and
Filemaker pro custom programming
.
Site created and managed using
FileMaker
™ Pro.

NightWing Enterprises is a division of d a r k s k y m e d i a