NightWing Enterprises — Demo for FileMaker Pro™ 9



Fluid manipulation of structured data!


Matrix Controller


For FileMaker 9!



As a courtesy to fellow developers and potential clients, the
following demonstration file is provided for free download.



When working with information in groups or grids, such as rosters, diaries, packing lists, seating assignments and the like, you may have wished you could drag and drop field values to different locations. Although FileMaker supports a form of drag-and-drop for selected text, dragging whole field values is not supported, moreover dragging creates a copy rather than moving a value or swapping the source and destination values.

This file demonstrates an interface technique that allows you to move values around or swap their positions just by clicking on the source and destination fields. Point and click! By default, you must shift-click to select a source value (to move, edit or delete) as a quasi safety-catch, however a preference setting in the demo allows you to dispense with the shift-key and move items with alternate clicks.

The technique makes short work of assigning and reassigning values to fields in any calendar, grid or plan layout. The example shown here moves values between records in a related table, however the technique can readily be adapted to move values between tables or between fields in the current table - whatever you choose.

This demo file is unlocked and password-free, compliments of NightWing Enterprises.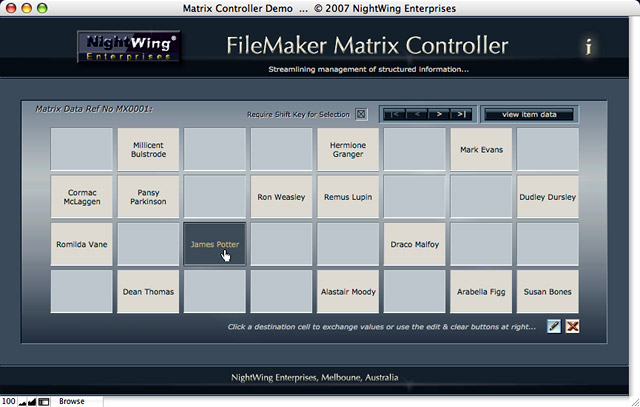 NB: If you may require assistance implementing procedures such as those shown in our
example files, please consider establishing an account with us for developer support.




NightWing Enterprises

ABN 22 207 533 285
www.nightwing.com.au/FileMaker
PO Box 20, Dallas, Victoria, Australia 3047
Ph +61 3 9016 3347 • Fax +61 3 9309 8273 • Mobile 0409 309 143
Email:
admin@nightwingenterprises.com

NightWing Enterprises - FileMaker Solutions:
- NightWing Enterprises, and the internet code-named
CobaltSky
is an internationally recognized
Filemaker consultant
,
Filemaker developer
and provider of
Filemaker pro custom
databases,
Filemaker pro custom development
,
Filemaker pro custom programmer
services and
Filemaker pro custom programming
.
Site created and managed using
FileMaker
™ Pro.

NightWing Enterprises is a division of d a r k s k y m e d i a