NightWing Enterprises — Demo for FileMaker Pro™ 8 thru 11**



To mark the release of the FileMaker Pro 9 Bible!


Merge Letter Templating System


Generate documents dynamically - without editing layouts.



For FileMaker 8 thru 11**



As a courtesy to fellow developers and potential clients, the
following demonstration file is provided for free download.



If your solution requries lots of letters and other printouts - or lots of slightly different versions of the same documents, chances are you have dozens of layouts (and climbing). Here is a system that lets you store each letter template in a record in a templates table, select one and use a single layout to preview and print it.

The demo is an extension of one of the techniques discussed in the FileMaker Pro 9 Bible, so if you let the book whet your appetite, this example file will give you something to chew on! In fact, this demo combines techniques discussed in several of the chapters of the book, to show how a powerful and flexible data-driven document generator can be achieved.

In this implementation, a single custom function transforms the template text into merged content ready to print. Not only does the system allow you to insert merge tags directly into the text data in your templates table, but it also supports:

References to both local and related fields (using fully qualified field names).
Insertion of contextual data such as date, account name, user name etc.
Conditional tags that insert a line only if there is data in the referenced field.
Use of FileMaker calculation syntax directly within special merge tags.
Incorporation of a graphical element (such as a scanned signature) in the previewed/printed output.
The demo provides a tour of the basics of the system, but of course the techniques can be extended far beyond what is shown in this limited example file.

Be warned that this is a power user technique that requires a working familiarity with all the aspects of FileMaker discussed in the first two parts of the FileMaker Pro 9 Bible. If you're entirely new to FileMaker, this demo is *not* the place to start (read the book and work with the application for a while first). But do come back to the demo when you're ready to push the envelope a little!


| | |
| --- | --- |
| ** | The demo technique is fully operable in FileMaker Pro v8.x and later, but v9 or greater is recommended - and FileMaker Pro Advanced is required in order to view the Custom Function definition, or to install the supplied Custom Function in your own solution files. |

NB: The system shown in this demo builds upon a technique that is described in the FileMaker Pro 9 Bible (Chapter 10 - Building Advanced Interfaces, pp329-330).

This demo file is unlocked and password-free, compliments of NightWing Enterprises.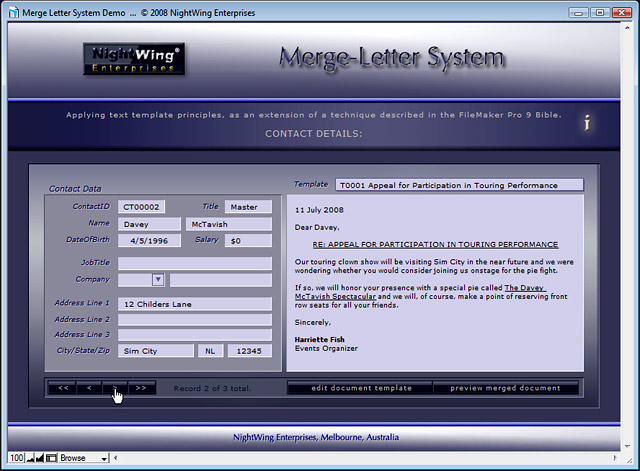 NB: If you may require assistance implementing procedures such as those shown in our
example files, please consider establishing an account with us for developer support.




NightWing Enterprises

ABN 22 207 533 285
www.nightwing.com.au/FileMaker
PO Box 20, Dallas, Victoria, Australia 3047
Ph +61 3 9016 3347 • Fax +61 3 9309 8273 • Mobile 0409 309 143
Email:
admin@nightwingenterprises.com

NightWing Enterprises - FileMaker Solutions:
- NightWing Enterprises, and the internet code-named
CobaltSky
is an internationally recognized
Filemaker consultant
,
Filemaker developer
and provider of
Filemaker pro custom
databases,
Filemaker pro custom development
,
Filemaker pro custom programmer
services and
Filemaker pro custom programming
.
Site created and managed using
FileMaker
™ Pro.

NightWing Enterprises is a division of d a r k s k y m e d i a