NightWing Enterprises — Demo for FileMaker Pro™ 10



Easy List Layout Searches in Browse Mode!


Instant Search


For FileMaker 10




As a courtesy to fellow developers and potential clients, the
following demonstration file is provided for free download.



FileMaker developers are often asked to provide "Google-like" search capabilities in FileMaker solutions - so that users can enter a word (or a few characters) into a search field at the top of a layout and see a list of possible matches. Not only must such a search field be able to search simultaneously on multiple fields on the layout, but it should show the results automatically, without the user having to click a button to run the search. In the past, this has been something of a tall order.

Using the new capabilities of FileMaker Pro 10, you can build an instant search feature on list layouts that works seamlessly and is quick to implement in multiple layouts or files. In this example, the basic technique is supplemented using a Custom Menu Set* to gracefully handle changes to the found set (that the user makes using commands on the Records menu).

The demo features a pop-up menu field that the user can use to choose which field is to be searched. Multiple selections are possible, or an option to search all the listed fields simultaneously is provided. A separate field in the header bar allows the user to enter search criteria in Browse mode - and as the criteria are entered, the Found Set is automatically updated in real time to show the matching records (if any).

This demo is one of several X4X examples of the use of Script Triggers in FileMaker Pro 10. The technique is also surprisingly portable, enabling you to implement the basics in a new file in four straightforward steps.

This demo file is unlocked and password-free, compliments of NightWing Enterprises. The use of this technique is free for private and educational purposes. Use for business or commercial applications is subject to license (pricing on request).


| | |
| --- | --- |
| * | To configure Custom Menus in your solution file(s), you will require access to a copy of FileMaker Pro Advanced. |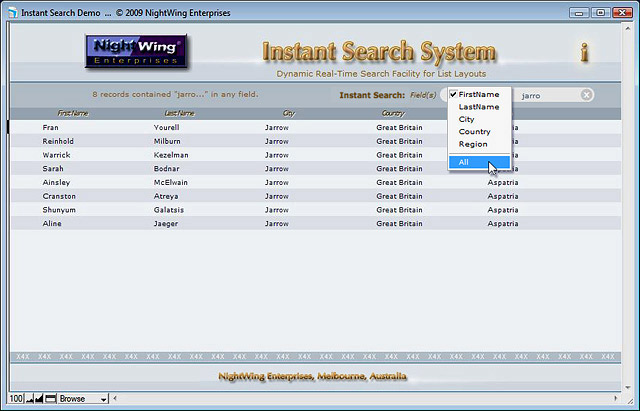 NB: Should you require assistance implementing procedures such as those shown in our
example files, please consider establishing an account with us for developer support.




NightWing Enterprises

ABN 22 207 533 285
www.nightwing.com.au/FileMaker
PO Box 20, Dallas, Victoria, Australia 3047
Ph +61 3 9016 3347 • Fax +61 3 9309 8273 • Mobile 0409 309 143
Email:
admin@nightwingenterprises.com

NightWing Enterprises - FileMaker Solutions:
- NightWing Enterprises, and the internet code-named
CobaltSky
is an internationally recognized
Filemaker consultant
,
Filemaker developer
and provider of
Filemaker Pro custom
databases,
Filemaker Pro custom development
,
Filemaker Pro custom programmer
services and
Filemaker Pro custom programming
.
Site created and managed using
FileMaker
™ Pro.

NightWing Enterprises is a division of d a r k s k y m e d i a