NightWing Enterprises — Demo for FileMaker Pro™ 9



Seamless, native & dynamic user feedback!


Progress Bars


For FileMaker 9!



As a courtesy to fellow developers and potential clients, the
following demonstration file is provided for free download.



For a decade or more, professional FileMaker developers have contrived to display various kinds of indicators to alert users to the status of lengthy operations - especially long running scripts. There have been various techniques (and we've used some of them in our own solutions, in the past). But this one is different - it uses a new approach made possible for the first time in FileMaker 9. The technique shown here uses a tiny web viewer to display content rich progress indicators. The web viewer uses FileMaker's calculation engine to adjust its display based on the value in a global counter field.

In one of the two examples shown here, the widths of two html table columns are varied according to the number of loops the script has passed through. Since the technology of the Web Viewer supports it, we've embedded images (which we supply in container fields in the System table) to give the indicators an engaging and visually dynamic appearance. The technique is in fact an alternative application of the principles used for the Dynamic Charting demo, another in the 949 series of examples.

This demo file is unlocked and password-free, compliments of NightWing Enterprises.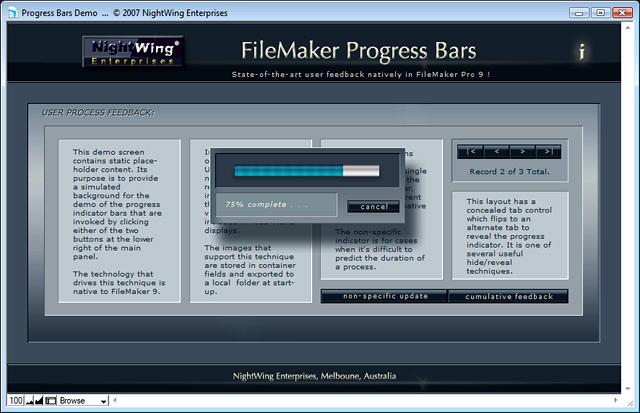 NB: If you may require assistance implementing procedures such as those shown in our
example files, please consider establishing an account with us for developer support.




NightWing Enterprises

ABN 22 207 533 285
www.nightwing.com.au/FileMaker
PO Box 20, Dallas, Victoria, Australia 3047
Ph +61 3 9016 3347 • Fax +61 3 9309 8273 • Mobile 0409 309 143
Email:
admin@nightwingenterprises.com

NightWing Enterprises - FileMaker Solutions:
- NightWing Enterprises, and the internet code-named
CobaltSky
is an internationally recognized
Filemaker consultant
,
Filemaker developer
and provider of
Filemaker pro custom
databases,
Filemaker pro custom development
,
Filemaker pro custom programmer
services and
Filemaker pro custom programming
.
Site created and managed using
FileMaker
™ Pro.

NightWing Enterprises is a division of d a r k s k y m e d i a